Sant'Apollinare in Classe is one of the most charming structures in all of Italy and should on no account be missed. The location of the basilica in the flat countryside, surrounded by umbrella pines, further enhances the effect, especially on a sunny day.

This massive brick church was erected by order of Bishop Ursicinus (Ursicino) in the early 6 C and paid for by the Greek banker, Iulianus Argentarius. It was located next to a Christian cemetery and quite possibly on top of a pre-existing pagan one, as some of the ancient tombstones were re-used in its construction. Classe (Classis) was the main port of Ravenna, and there is an archaeological area where some of the Roman port has been uncovered between Classe and Ravenna.

Sant'Apollinare in Classe was consecrated on May 8, 549 by Bishop Maximian and dedicated to the first bishop of Ravenna and Classe. The Basilica is thus contemporary with the Basilica of San Vitale in Ravenna. In 856, the relics of Saint Apollinare were transferred from the Basilica of Sant'Apollinare in Classe to the Basilica of Sant' Apollinare Nuovo in Ravenna.

The exterior has a large façade with two simple uprights and one mullioned window with three openings. The narthex and building to the right of the entry are later additions, as is the fine 10 C round campanile (belltower).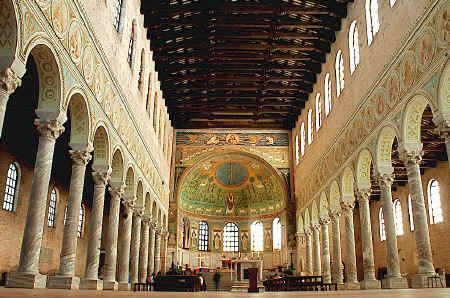 The interior contains 24 columns of Greek marble, which terminate in a green mosaic of meadows and sheep. The faded frescos depict some of the archbishops of Ravenna and date from the 18 C. The lateral walls are bare, but were once covered with gorgeous mosaics. These were likely demolished by the Venetians in 1449, although they left the mosaic decoration in the apse and on the triumphal arch. These wonderful mosaics illustrate the transfiguration of Christ, St. Apollonaris with a flock of sheep and a charming landscape of flowers, trees and birds.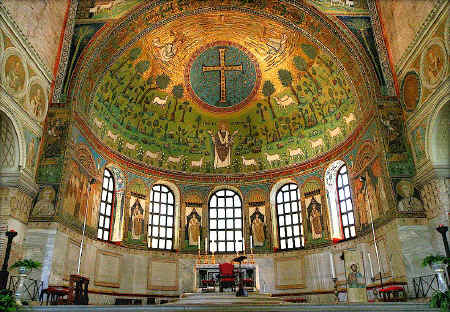 How to get to Sant'Apollinare in Classe by bus
Sant'Apollinare in Classe can be reached from Ravenna by public transport. Buses numbers 4 and 44 pass the basilica, running every half-hour. In Ravenna the buses stop in Piazza dei Caduti and opposite the railway station. Bus tickets should be purchased in advance (the bar alongside the bus stop in Piazza dei Caduti sells tickets). Services are every half-hour, and the journey takes around 15 minutes. For the return trip, you can catch both services at a bus stop on the main road in the direction of Ravenna.